Hi Everyone,
Well it's been a busy few months with lots of lovely events going on for the carers to enjoy.
Six carers enjoyed a day out on the 7th June to Highgrove House Gardens (Prince Charles home in Gloucester). We enjoyed a one and a half hour tour of the beautiful gardens the weather remained dry and a professional photographer popped out behind one of the shrubs to take our picture (see below). We ended our visit with lunch in the orchard restaurant at the estate and a trip around the garden centre.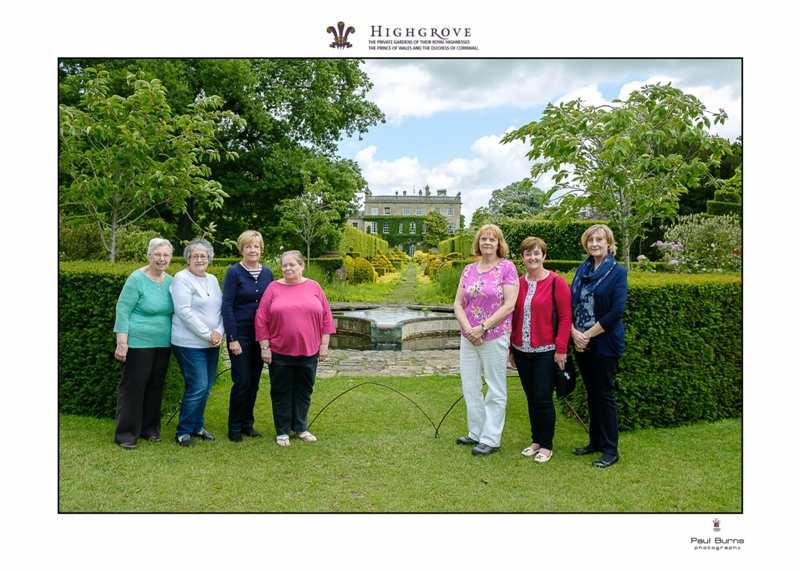 Another successful carers pamper day took place at the Greenfield centre on the 16th August eight carers enjoyed Reflexology, massage, Rekki and chiropody. We made use of the kitchen facilities and enjoyed new potatoes, salad, quiche and crusty bread followed by some delicious puds. A big thank-you to all the therapists, Marion, Helena, Helen and Claire for truly indulging the carers with a day of sheer relaxation and pampering. The next carers pamper day will be on the 7th November this will be held in Paul's Place activity room from 10:00am to 3:30pm. So if you don't want to miss out on receiving a particular therapy, please book well in advance.
Several carers came along to Paul's Place cream tea afternoon on the 13th August. This was a splendid event which seventy five people attended. Tea, Coffee and scones were served in the sensory garden in the sunshine. Im sure we will run this event again next year.
Final arrangements are underway for the carers annual holiday to Alverston Hall in Cheshire, more about that in the next magazine.
Carers meetings continue to be held once a month, (or an evening pub meal). We have an open door policy for carers to come in for a private chat or to share any concerns or worries they have at anytime, in a private, confidential setting.
Take care.
Sheila