Daz's Rocks for Charity and Charity Patron Louis Carey Football and Music Fundraiser
Image: total amount raised was £1,843.90
Fundraising superstar Darren Sims creates another fantastic event to raise funds for Paul's Place with the help of Louis Carey and his friends from Bristol City Football Club. The former team captain and ex Bristol City player has long supported Paul's Place as our charity Patron.
Sunday 12th September saw people gather at Pomphrey Hill Pavilion for a fun day out. Louis Carey, the charity's Patron reached out to ex Bristol City players to play in the celebrity football match in order to raise funds for Paul's Place. The opposing team was made up of members of the public named the Paul's Place 11.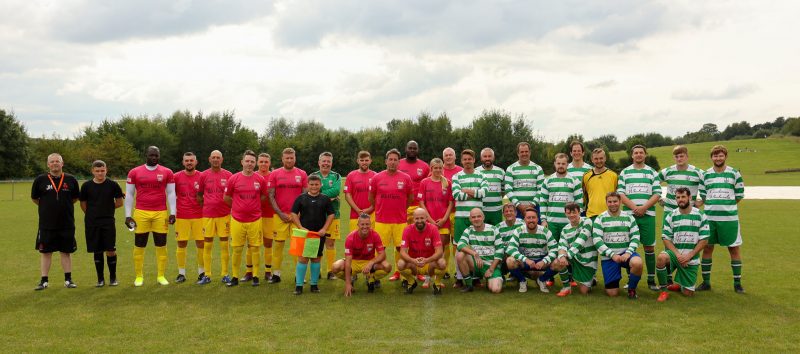 The day also included delicious food, cakes, a bouncy castle and Zorb balls! Plus, supporters could take part in a raffle, lottery and auction.
"Darren created something very special. Getting many members of the community involved to provide food and entertainment. From his friends who made food on the day, to a local face painter and even his mum selling hand-knitted teddys, it was wonderful to see so many individuals believe in our work," explains Alex Stumpp, Paul's Place Communications Officer.

"It was also important to be seen in our local community in person. Some of the people we support attended the day, which helped supporters connect with those who benefit from our services. Not only that, those families that have not heard of us but have a loved one who could benefit from coming to Paul's Place were introduced to us, putting a face to the charity. We're ordinary people who believe in a world that embraces disability and includes everyone, ensuring that all people can live their life to the full," says Alex.
A BIG heartfelt thank you from all of us at Paul's Place to Darren and his supporters for raising a phenomenal amount.
The last time Darren hosted this fundraiser we reached £1,500, so to exceed that during the recovery from Covid-19 is a big achievement!
To all those who came, donated and helped Darren make this the successful event it was, we hope you know the real and tangible difference you have made to the people at Paul's Place.
Thanks to you, Paul's Place can continue to provide social activities that connect people, reduce isolation, improve health and wellbeing and give people the opportunity to develop new skills, enjoy new experiences and live life to the full.
A special thank you also goes to our Patron Louis Carey who helped get the city players involved as well as playing himself on the day. Not only that, he had the current Bristol City team sign a shirt that went up for auction, selling at £250!
This contributed to our final total of £1,843.90.
We look forward to next year already!