Did you know July is #nationalpicnicmonth?
In honour of our 25th Anniversary, we had a very busy 2020 fundraising events calendar planned. Sadly, there is still no sign we can go ahead with any of them, and as a small charity, this is a big loss.
Normally, we would have been hosting our Cream Tea Fundraising Event around this time but with Covid-19 still affecting our lives, we have had to think outside of the box!
We are forever the optimists and are always looking for ways we can adapt to still enjoy as many of these events as possible.
Last year, this event raised just over £850 and provided vital funds for Paul's Place. Rather than cancel, we would love for this to go ahead with you at home.
How can you get involved?
Get involved by hosting your own event from Sunday, July 12th
Events can be held throughout the month of July beginning Sunday the 12th of July.
With a slightly different 'picnic' (if the weather is nice!),  why not gather your friends and family to raise money over a scrumptious cream tea?
Be it a garden party or at your local park, your event will help disabled adults living in the Bristol and South Gloucestershire areas 'Live Life to the Full'.
Of course, if the weather is not so glorious an indoor picnic, civilised cream tea at the table or relaxing on the sofa can be just as much fun!
Get baking with two special recipes from our Patron and Bristol's Fabulous Baker, Briony May.
Easy Peasy Scones (various flavours)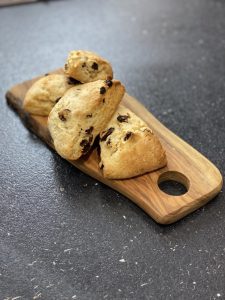 Briony's Bacon and Cranberry Scones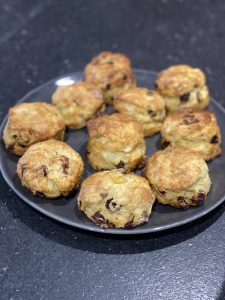 Come rain or shine please support us from Sunday 12th July by hosting your own Paul's Place Cream Tea Event.
We suggest a donation of £5 per person and each donation can be made to our 'Paul's Place at Home Emergency Appeal' here.
We have created an event poster, plus your very own bunting template!  All you will need is some string, scissors and handy-helpers.
Show us your beautiful smiles and bakes by tagging us on Social media and using the #PaulsPlaceCreamTea hashtag. We can't wait to see what you get up to this July!
We thank you for your generosity shown in support of your local charity. Who knew eating delicious treats could make such a difference to those in need?
Please ensure all events hosted follow government guidelines on social distancing and maintain a high standard of health and safety throughout.