Last year's Bath Half Marathon runner for Paul's Place, Daniel, shares his journey to the finish line. Due to Covid-19 his finish line was not in the public race, rather he completed his half marathon along the Bristol to Bath Cycle path.
Here he tells us about his experience of why he chose to run for us, his training and hopes for the future.
"In December last year, our team at work were challenged to raise as much money for charity as possible, in a 2-hour window. We did a sponsored run with people throwing wet sponges at us. We managed to raise a couple of grand for Paul's Place. It felt great and I was asked whether I would consider the Bath Half in aid of the charity. For me, this was a great opportunity to achieve a personal goal and raise money for a charity whose cause I believe in."
"I think it was Maya Angelou who said: 'if you get, give. If you learn, teach' and I think that's a philosophy I carry with me day to day."
"I am grateful to have legs and lungs that let me cover the distance; so why not put them to good use! I believe Maya's philosophy is so important, particularly these days when people are so in need with so much going on in the world. I know what a difference Paul's Place makes in helping its service users live life to the full."
"So, when the charity asked me to consider running for them, I jumped at the chance."
When asked how his training went and what advice he would give first-time runners he told us the training was harder than the run itself!
"I joined a gym and because my work commitments were quite heavy, I was up early each morning and in and out of the gym before sunrise. Being the antithesis of a 'morning person' in some ways, I that was harder than the run itself!"
Daniel is a brilliant example of how even the busiest work schedule can allow time to achieve personal goals.
During training, Daniel injured his ankle. It was important he allowed his ankle to recover, so he made use of the gym's swimming pool and cycled to keep him fit.
Another great tip from Daniel to first-time runners is to invest in appropriate clothing!
"A few weeks before race day, I bought running shorts. Really not a good idea for anyone with chunky thighs – the chafing is a real killer! So, I wore Lycra joggers… not a good look for a man approaching 40 but ok in a race!"
Like our other runners, Daniel was set to run the Bath Half in March 2020, which due to Covid-19, we asked our runners not to take part for their personal safety. Determined to keep his promise to his supporters he decided to run solo.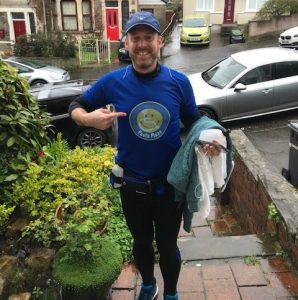 "For me, a promise is a promise. I ran the full distance on the Bristol to Bath Cycle path. I started the race in Bath and ran to Bristol. It was wet and cold, not that you notice once you've been running for 5 minutes! I was lucky that I met a really nice woman (also running) at the start of my route who lifted my spirits. I felt like I had a pal for some of the way."
"Of course, my wonderful other half popped up at a few choice places along the route to surprise me and cheer me on, which was a MASSIVE boost."
It was also nice to see a couple of others doing the same thing for other charities. This lifted my spirits as we all wished each other well, knowing that we were all trying to do our bit for others."
As Daniel reflects on his experience he tells us that "It was my first time and I would totally do it again! I would even consider a full marathon (which is a lifetime ambition for me) but would really like a running partner if I were to do that! Anyone up for that? Get in touch!"
With the next Bath Half set to happen 13th March, 2022, registration to run for Paul's Place is now open!
Get in touch today to secure one of our limited places!
Email Clair at Fundraising@paulsplace.org.uk.