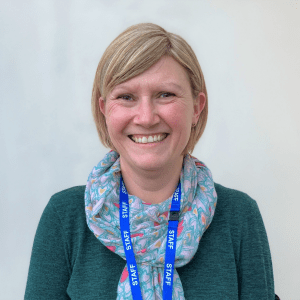 Clair Armstrong
Fundraising and Public Relations Manager
Clair joined the team in 2018 to expand Paul's Place fundraising opportunities and to raise the profile of Paul's Place within the community. Coming from a sales and fundraising background, she manages our fundraising events calendar and ensures the charity continues to build important corporate and community partnerships, as well as securing grants and developing other income streams. Nicknamed Paul's Place's personal "Tigger" her passion to enhance the lives of disabled adults shines through in everything she does. In her spare time, she loves nothing more than spending time with her wife and twin boys, sharing a coffee with friends or going for a run having found her passion for running when she completed Couch to 5K in the summer of 2020.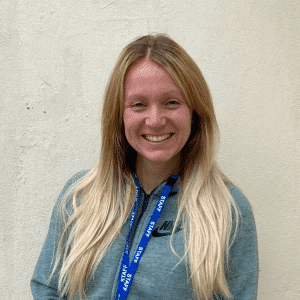 Poppy Bishop
Support Worker
Poppy joined the team in 2012 as a volunteer. Having seen the life-changing impact the charity has on those it supports, she successfully became a Support Worker in 2013. Volunteering helped her find a career in social care that she loves and a rewarding part of her role is the ability to get to know a diverse group of people. Poppy enjoys the difference she makes at Paul's Place and brings this into her other role outside of Paul's Place too. She is also a part-time personal assistant to one of the members (those the charity supports). Her family of 6 keeps her pretty busy but she loves to keep fit by running. She also loves to travel, creating some of her favourites through holidays in Mexico.
Andy started as a volunteer cook in 2013 and became a Support Worker in 2015. He works closely with those we support in the day facility, is a Boccia coach and organises our all-important day trips and short breaks with the rest of the support team. Since became a Team Leader in November 2020, supervising the support worker team, while continuing to work closely with the disabled adults supported by Paul's Place. Andy's career progression reflects his dedication and in his own words; he feels the help and support he provides to others, has been given back to him even more. Outside of Paul's Place Andy is completing an Open University Degree in Psychology and enjoys walking his Labrador.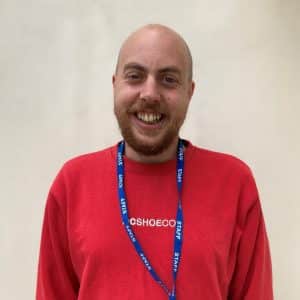 Joe joined Paul's Place in 2014. As a Support Worker he runs the range of activities on offer in the day facility. As a someone who is trained in pottery, he loves getting creative and seeing others find new hobbies and crafts to take part in. Joe also supports the team during day trips and holidays. Joe loves seeing the confidence grow in people as they step outside of their comfort zone while abroad or even during day trips. The ability to offer such a wide range of services is what makes his role so rewarding, as there is something for everyone to take part in. In his spare time, you will find Joe dancing or volunteering at festivals, mountain biking and dabbling in learning to play guitar.
Daniel was appointed as Chief Executive Officer in 2019 to provide leadership to the charity and to oversee the strategy. Prior to joining Paul's Place Daniel has had a career leading charities and working in the field of equality. He is passionate about making a difference to the lives of others and supporting individuals to live their lives to the full. In his spare time Daniel is a bit of a film buff and enjoys cinema from around the world.
Jools Easty
Volunteer Coordinator
Jools joined the team in January 2021 and looks after Paul's Place volunteers. As the Volunteer Coordinator, she ensures volunteers get the most out of their time with the charity, gaining relevant skills as well as providing a rewarding experience for all those involved. Jools is inspired by the work at Paul's Place and bring previous charity experience with her to the role. Outside of work Jools has lived on a narrowboat for over 25 years, her favourite things to do include exploring the canal and river network by boat or by walking.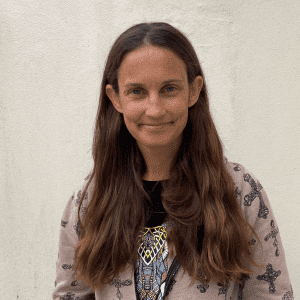 Lucy Everett
Support Worker
Lucy joined the team in November 2021 coming from a long history in care work. Her previous roles as support worker were in a residential care home for those with dementia, and she also worked with adults who have a mental health condition and a learning disability. The wide spectrum of individuals she has worked with means she brings a wealth of people knowledge to the role. She loves being a support worker as she enjoys building relationships and helping people achieve their goals. In her spare time you will find her with her daughter riding their horses Blaize and Taz. She also lives with dog penny who she says rules her house!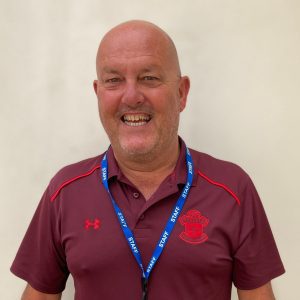 Bob joined the team in 2011 and is a Support Worker and Fire Marshall for Paul's Place Daily. His previous career in the travel industry, took him all around the globe, helping him discover the world from South America to Bora Bora. He loves to keep active, something which he brings to the role of Support Worker. Co-ordinating many of Paul's Place's activities outside, he loves nothing more than encouraging people to try the range of adapted sports like archery. The most rewarding part of his roles is seeing an individual achieve something they thought was out of bounds due to their disability.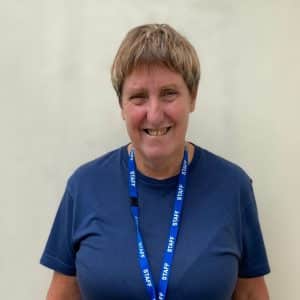 Heather Gartland
Team Leader
Heather started at Paul's Place in July 2017 as a Support Worker. In her own words, 'the relaxed atmosphere, banter and sense of accomplishment found in the day facility is what makes Paul's Place truly unique'. Heather is one of Paul's Place's most travelled support workers, having spent many years backpacking around the world starting from her previous home In South Africa. She brings her expertise and world knowledge into her role to create varied activities. Since November 2020 she has been Team Leader. Outside of work Heather loves spending time outdoors with her Scottie dog and catching up on the latest sporting news.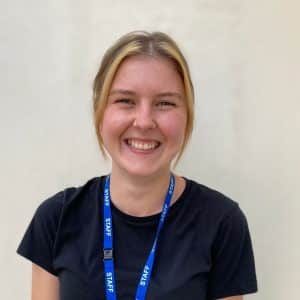 Mikhaela Gartland
Support Worker
Mikhaela became part of the team in March 2021. Her previous role was working with adults with learning difficulties at the Bingham day centre, part of Care Futures.
Mikhaela was raised in Cape Town, South Africa for the first 10 years of her life. Her globetrotting nature has taken her as far as Lapland and New York. Her favourite place was Lapland where she could experience husky and reindeer rides, as well as visiting a village in the arctic circle. In her spare time, she loves being creative with crafts and baking, as well as spending time outdoors and with animals.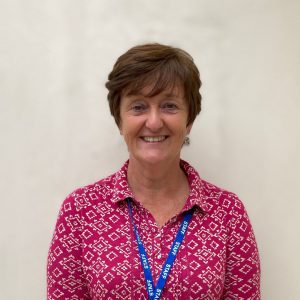 Sheila Hewitt
Safeguarding Manager
Sheila joined Paul's Place in August 2007 as a Social Worker, having worked in the social care sector for a long time. Sheila looks after new people coming to Paul's Place, by carrying out initial assessments to ensure individual needs are met. In addition to this, she leads our Carers Project, which supports the carers of the disabled adults at Paul's Place. Sheila is passionate about helping people become more independent and achieve their goals and aspirations. She loves walking her dog Ted and mainly being in the great outdoors, enjoying nature.
Natalie Harrison
Support Worker
Natalie joined our team in April 2022. Having a background in health & social care through working at the NHS or with dementia patients, she really enjoys the diverse group of people at Paul's Place. She is also experienced with ADHD and ASD as two of her children experience these. Her kind nature helps her in her role to connect with people at Paul's Place and her favourite thing to do is to bring a smile to people. In her spare time, you will find this metal head at concerts like slipknot or enjoying family time. As a mother of five, her big family brings her so much joy, especially when spending time in nature.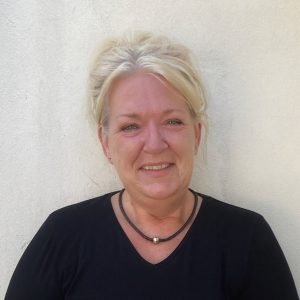 Paula Jordan-Matthews
Operations Manager
Paula joined the charity in February 2016 as Operations Manager, working closely with all the Staff and those the charity supports. She has always enjoyed every aspect of Paul's Place and how fun and laughter have always been at the forefront of the day facility. Over the years she has been in awe of the generosity and kindness displayed by everyone connected to the charity, appreciating everyone's hard work and dedication to enhance the lives of the disabled adults supported by Paul's Place. Her favourite way to relax is a holiday in Spain or with family in her local area.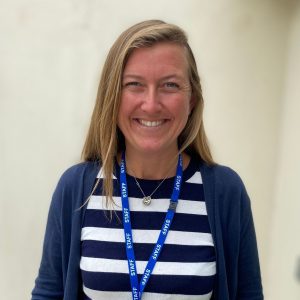 Kate Leahy
Finance and Business Support Manager
Kate joined the team in January 2021 and monitors all financial aspects of Paul's Place. Kate qualified as a Chartered Accountant at PwC in Bristol and worked primarily in audit and assurance within the commercial and charity sectors. Having previously worked at PwC and Triodos Bank in Bristol, she uses this experience to maintain all of the charity's finances to the highest standard. Her love of horses and giving back to her community is expressed through her work as a Trustee for Avon Riding Centre for the Disabled. If she is not monitoring our finances or at the riding centre, she can be found with her own two horses, a miniature Shetland pony called Daffy and a rescued ex-racehorse, Dexter.
Kerry Lewis
Support Worker & Sports Coordinator
Kerry joined the team in 2007 as a Support Worker. In January 2022, in addition to her Support Worker role she has taken the position of Sports Coordinator too. As the Sports Coordinator she is responsible for ensuring there is a varied and inclusive sports programme available at Paul's Place. Her favourite part of her role is seeing the inclusivity and possibility of learning new skills that individuals get to experience. As a busy mum of two, you will find her splitting her time with family, like spending time in Cornwall for some bodyboarding on her family holidays. She is also a creative individual and loves arts and crafts as a way to relax.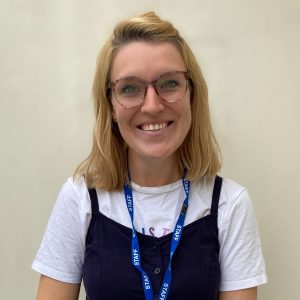 Ashleigh Riddell
Support Worker & Monitoring, Evaluations and Outcomes Officer
Ashleigh joined Paul's Place in 2018 as a volunteer, before joining our staff team in 2019 as a Support Worker. Since January 2021, she has taken on the role of Monitoring, Evaluations and Outcomes Officer. Ashleigh is the driving force behind our Customer Relationship Management system and actioning service user outcomes with this system. She specialises in art activities and wellbeing sessions, bringing her experience as a trainee Psychotherapist to the role of Support Worker. In her free time, she is an absolute bookworm, enjoys doing anything creative, like pottery throwing and lives with her pet hedgehog.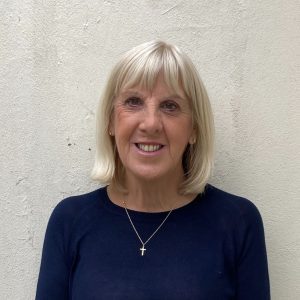 Elaine Snook
Finance Assistant
Elaine joined Paul's Place in August 2017 and is a Finance and Administration Assistant. Dealing with the-day-to-day finances and office duties, Elaine's many years in an office environment serve her well for the varied challenges her job brings. On a personal level, Elaine loves to travel. Her favourite destination is Greece and its beautiful Greek islands. Outside of work you can find her keeping fit with swimming and spinning classes.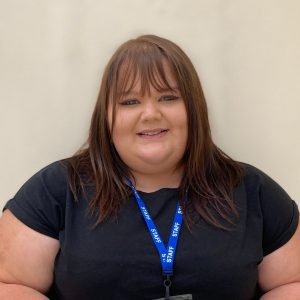 Leanne Stowell
Support Worker
Leanne joined the team in March 2021, having previously managed The Bromley Tea Rooms. Prior to that, she was a Support Worker at the Brandon Trust for several years. In this role, Leanne supported disabled adults in various projects, for example running a community café as part of Grimsby Farm, as well as working at the Vassalls centre setting up a project, where a café provided employment opportunities for people with learning difficulties. Outside of work, Leanne loves walking her dog, Archie. Her favourite place to relax is in the quiet parts of Ibiza, which shows, as she has visited the island 13 times!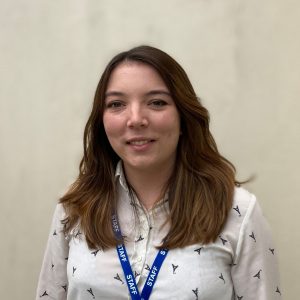 Alexandra Stumpp
Communications Officer
Alex joined Paul's Place in March 2020 and takes care of communications. From social media to the monthly newsletter, press releases and keeping our website updated, she supports Paul's Place by making sure more people hear about the life-changing impact the charity has. Her interests include the wonderful world of tea, travelling and making a difference in her community. She is the one to go to when looking for tea facts or tips on living sustainably.