Do you ever feel like you are the only disabled person around? That the people around you want to help but don't quite understand what you are going through? Well, connecting with disabled authors is really important in terms of finding others with similar or shared experiences. Here is a list of brilliant people, changing people's perceptions of disability.
Sam Renke: You are the best thing since sliced bread
We are made to think that what makes us human – our flaws, failures, and heartaches – are things to keep hush-hush. Being unapologetically imperfect is seen as something we should be embarrassed by. But what I've learned is that we all experience the same insecurities. We just aren't talking about it. Well, I'm here to break the silence.
For starters, I have way too many nipple hairs. I prefer the company of my pets to other people. And repeatedly I question Am I normal? I was born with brittle bone condition and so far, I've broken my bones 200 times. But most of the hurdles I face don't come from my disability, they come from things we all experience.
In this book, I will share the lessons I have learned and why you should embrace your uniqueness as what makes you fabulous. We spend a lot of time living by others' expectations and it's only when you stop, that you start saying yes to life. Irrespective of who you are and the obstacles you might face, you can do whatever you want. Be free and unapologetically you.
Sitting Pretty: The View from My Ordinary, Resilient, Disabled Body by Rebekah Taussig
Growing up as a paralyzed girl during the 90s and early 2000s, Rebekah Taussig only saw disability depicted as something monstrous (The Hunchback of Notre Dame), inspirational (Helen Keller), or angelic (Forrest Gump). None of this felt right; and as she got older, she longed for more stories that allowed disability to be complex and ordinary, uncomfortable and fine, painful and fulfilling.
Writing about the rhythms and textures of what it means to live in a body that doesn't fit, Rebekah reflects on everything from the complications of kindness and charity, living both independently and dependently, experiencing intimacy, and how the pervasiveness of ableism in our everyday media directly translates to everyday life.
Disability affects all of us, directly or indirectly, at one point or another. By exploring this truth in poignant and lyrical essays, Taussig illustrates the need for more stories and more voices to understand the diversity of humanity. Sitting Pretty challenges us as a society to be patient and vigilant, practical and imaginative, kind and relentless, as we set to work to write an entirely different story.
What happened to you? by the Catchpoles
What happened to you? Was it a shark? A burglar? A lion? Did it fall off?
Every time Joe goes out the questions are the same . . . what happened to his leg? But is this even a question Joe has to answer?
A ground-breaking, funny story that helps children understand what it might feel like to be seen as different.
We've Got This: Stories by Disabled Parents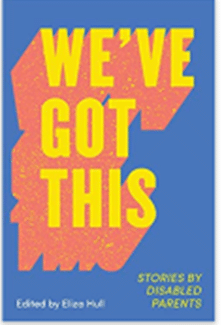 When writer and musician Eliza Hull was pregnant with her first child, like most parents-to-be she was a mix of excited and nervous. But as a person with a disability, there were added complexities. She wondered: Will the pregnancy be too hard? Will people judge me? Will I cope with the demands of parenting? More than 15 per cent of Australian households have a parent with a disability, yet their stories are rarely shared, their experiences almost never reflected in parenting literature.
In We've Got This, twenty-five parents who identify as Deaf, disabled or chronically ill discuss the highs and lows of their parenting journeys and reveal that the greatest obstacles lie in other people's attitudes. The result is a moving, revelatory and empowering anthology.
Edited by Eliza Hull.
Disability Visibility: First-Person Stories from the Twenty-First Century by Alice Wong
According to the last Census, one in five people in the United States lives with a disability. Some are visible, some are hidden–but all are underrepresented in media and popular culture. Now, just in time for the thirtieth anniversary of the Americans with Disabilities Act, activist Alice Wong brings together an urgent, galvanizing collection of personal essays by disabled people in the 21st century.
From Harriet McBryde Johnson's account of her famous debate with Princeton philosopher Peter Singer over her own personhood, to original pieces by up-and-coming authors like Keah Brown and Haben Girma; from blog posts, manifestos, eulogies, testimonies to Congress, and beyond: this anthology gives a glimpse of the vast richness and complexity of the disabled experience, highlighting the passions, talents, and everyday lives of this community. It invites readers to question their own assumptions and understandings. It celebrates and documents disability culture in the now. It looks to the future and past with hope and love.
Break the Mould: How to Take Your Place in the World by Sinead Burke
Sinead Burke is an advocate, activist, teacher, British vogue cover model and happens to be a little person at three and a half feet tall. Her debut children's book will encourage readers to be comfortable in their own skin, break the mould and discover their place in the world