Paul's Place Care for Carers – support from St. Monica's Trust
As the nation gathers every Thursday night to #ClapforCarers we also clap for the carers that we support at Paul's Place.
St Monica's Trust has awarded Paul's Place a grant of £4,000 to help fund our Care for Carers service.
Our 'Care for Carers' project has been busier than ever due to the coronavirus crisis. We have continued to support carers through a telephone befriending project and support from St Monica's Trust will help us increase capacity. It will also enable us to continue to offer our weekly carers Zoom meetings that have proved to be a lifeline for carers.
This peer support group has already been of great help to many. We have also been able to link people up with local organisations that can offer practical support. This includes; South Gloucestershire Council, Sirona Health Care, Southern Brooks and South Gloucestershire CVS. They ensure that people are connected to the right level of support, at the right time, during this time of crisis.
We thank St. Monica's Trust, for the donation.  It will help us to care for the brilliant carers who care for their loved ones at Paul's Place.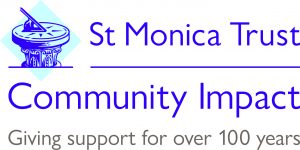 To find out more about our service for carers click here
For more information about St Monicas Trust click here